Our Vision - To bring people closer with Acro
Our goal is to connect people who love Acro with teachers who love to teach and create a safe and development-encouraging environment where there is a place to meet, play, explore and have fun.
Acro-yoga? Acrobalance?... How do you say it?
Acro Yoga or acroblance is a way for two or more people to connect physically, in a fun and pleasant way while listening and communicating constructively. The ACRO activity is about building human pyramids and finding balance with other people including transitions and dynamic human flow. The practice of acro-yoga has its roots in many ancient traditions, including circus, gymnastics, yoga, Thai massage, contact improvisation, touch, theatre and more. We believe that building trust and sensitivity, respectful communication and attention to our bodies and abilities, are of great importance when we come to play with other people. When these principles take root, the rest comes naturally…
What is Acro-Israel
Acro-Israel is a company founded in 2010 by Yanai Lev-Or and Avner Hochfeld, with the intention of holding large-scale Acro events that will strengthen and build the community in Israel. We organize conventions and festivals hosting teachers from all over the world. The events, in addition to regular classes and open sessions have proven to be an effective way for people to meet, learn, play and connect.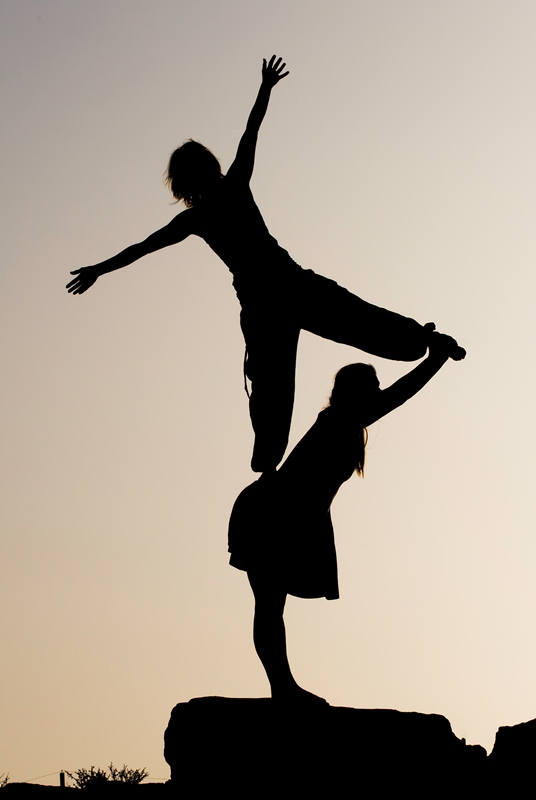 Avner Hochfeld
I went to Circomedia Circus School in England and specialised in acroblance. I am a student of Peter van Valkenhoef from the Netherlands, one of Europe's leading teachers and acrobats. Together with my good friend Uri Weiss, I created and performed in the famous duo "Captain Zucchini" and other shows such as "La Familia," "Fantastico" and"Chicken with the Imagination."
Today I perform at birthdays and festivals in the country. I started teaching Acro in 1997 and I still feel the desire to pass on the knowledge I have gained to new and experienced students alike. Among other things, I took part in the Drama Mitra Yoga Teacher course and am a certified practitioner of traditional Thai massage.
My main focus in teaching these days is Icarian Games.
Yanai Lev Or
I started out many years ago as a yoga student in the Iyengar method. I then learned juggling and other circus subjects until I found my love for acro. For 17 years I've been teaching acrobatics and it continues to be something that fills me with joy and happiness. I am excited every day to see people succeed in exercise, and enjoy seeing the learning process as much as the success of the exercise itself. Especially important to me is the special communication that occurs between people when they practice poses of shared balance. In 2004-5 I performed with my wife and children on various stages around the world and in street performances in New Zealand. I also taught workshops and classes in many countries including: New Zealand, Spain, France, the Netherlands, USA, Canada, Russia and more. Today I teach at Kfar Yehoshua Circus, in Karkur, and an advanced class in Tel Aviv. My teaching is flexible and diverse, and I love working with students at all levels and in all styles. As a practitioner I really like to base and fly, but I'm most happy to be in the middle role in threes - where I can be both a flyer and a base at the same time. Over the years I have developed many exercises and a unique teaching method to teach Acro to parents and children.